'My mother and father did this work, and so did my grandparents. The tradition of incense making goes back many, many generations in my family. So it's natural that we carry it on, no matter how things change.'

We're having lunch with Mr Long and his family at their home in a hamlet in Quang Phu Cau village, right opposite their incense workshops and outdoor drying area. On hot days like this, the whole village stops at midday, leaving freshly-made bouquets of red incense outside to soak up the sun. And in the run-up to Lunar New Year (Tet), that means streets and alleyways awash in startling red.

Nothing new about this, of course—incense has always been in pretty high demand in Vietnam, especially at Tet. What's new is the fact the village has become an iconic attraction for photographers, and those scenes of a conical-hatted worker (usually Long's sister or daughter-in-law) arranging red incense sticks are now pretty much synonymous with Vietnam as a travel destination.

But how did this strange phenomenon start?
'The first foreign photographer who came here, must have been around 2018,' Long says. 'I didn't think much of it, but after that we saw a lot more. They like the color and patterns, and seeing our traditional method of production.'
I ask him if he's heard of Lonely Planet, or National Geographic, both of which have featured shoots at Quang Phu Cau on their covers.
By name, apparently not; but when I show him the images on the internet, he yells, 'Hey, that's you!', elbowing his daughter-in-law, who's just next to him, helping herself to some rice.
Not that Long seems to mind the publicity. Indeed he's been charging visitors a fee for some time now, and photographers can even call ahead to request various arrangements and colors on the drying field. Today when we visit, Long has directed his workers to design a green map of Vietnam among the incense bouquets. And yet, the main work – slicing bamboo into sticks, dipping them in deep red dye, then putting them out to dry – carries on regardless of the display in the drying area.
As it happens, this is the most interesting aspect of Quang Phu Cau for photo enthusiasts joining our tours: the various stages of this traditional process, and the people who make it happen. The classic shot of workers in the incense field is just the (bright red) cherry on top.
Has the incense-making process changed a lot since the old days? I ask Long.
'Not so much. Only the fact we have machines now. In my parents' day, we had to do the whole thing by hand, so it was much slower and harder. But we still have to get up every morning at dawn, and if it's a dry day, we'll be out there working till dark.'
Easy to believe, looking at the family members seated around the lunch spread—hands and bare feet are stained with deep crimson dye, apparently impossible to wash off.
'And what do you do if it's a wet day?' I ask.
'Drink!' laughs Long's son in law, Minh, pouring us another round of rượu táo mèo, crabapple rice wine.
We relocate to the garden for a tea and smoke—perfect for shaking off the effects of the wine. Making the universal sign for naptime, bleary-eyed Minh heads off for his hammock in the workshop. The normally bustling hamlet beyond Long's gate has fallen into drowsy silence.
'Have a siesta inside if you like,' Long offers us with typical generosity, and looking like he might be about to hit the hammock himself.
But just then, two foreigners wander past, peering inquisitively into the locked-up incense drying area. 'Well, back to work for me!' Long grins, leaping to his feet.
Keeping the family tradition alive, one way and another.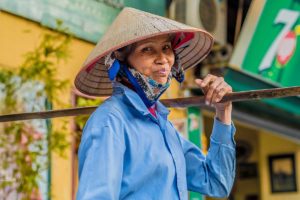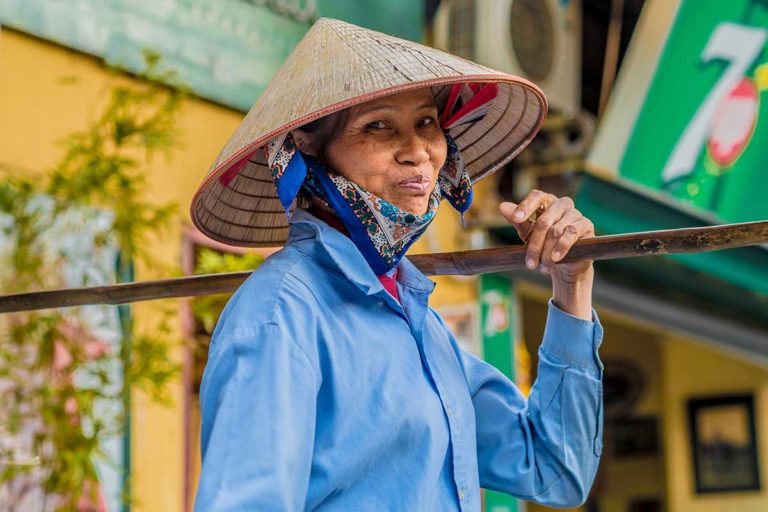 The Ultimate Private Photography Experience in Hanoi. Ultimate Hanoi packs the most photography and fun possible into a single day. Includes our iconic incense village tour and the ancient village of Cu Da. This is the number one way to experience the true Hanoi vibe and capture it through your lens.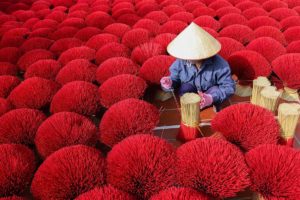 Discover and photograph one of the north's most fascinating and colourful craft villages, Quang Phu Cau Incense Village. Only about an hour by car from Hanoi, the villagers here produce traditional bright red incense, making for stunning imagery at all stages of the process