Saigon, or Ho Chi Minh City as it's been officially called since the end of the American War, may look like just another Asian mega-city, but under the surface (and in its tiny, labyrinthine alleyways), there's an incredible place to be discovered with your camera. Further afield, the Mekong Delta offers tropical jungle, idyllic waterways and leisurely riverside life – apart from when its brilliant, chaotic floating markets are going great guns.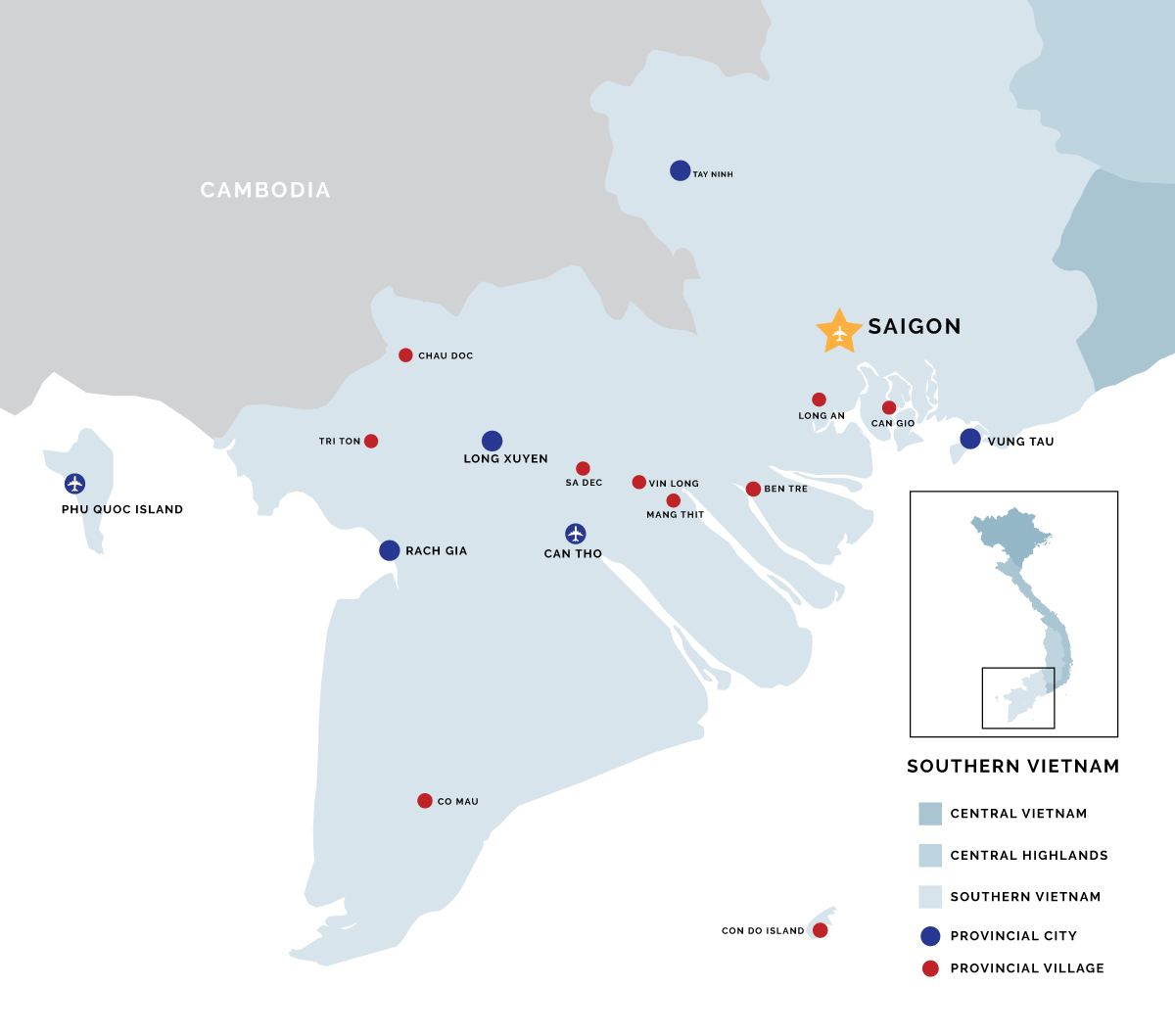 Saigon (like most Saigonese, we prefer the old name) is all about streetlife, much like Hanoi. But Saigon's pace, style and soul is very different to the northern capital. In Saigon, the presence of the modern can be more keenly felt, and its towering, ramshackle apartment blocks offer Hong Kong-like urban scenes. 
The locals also set up impromptu markets and food streets in some of these apartment quadrants, which make a fascinating visit and even more unique opportunities for portraiture and street photography. Pop down an alleyway in one of the 'hem' (local neighborhoods) and you'll find a Saigon of the past – pagodas, cycling vendors, street hairdressers – rubbing shoulders with the people of a 21st century city.
For many photographers, the Mekong Delta is southern Vietnam. Boasting a rich mix of cultures and religions, tropical flora and fauna, and its own unique riverside lifestyle, this is a place that deserves exploration with your camera.
Most tourist trips pass through quickly, hitting only famous destinations like Can Tho and Vinh Long, we'll take you off the beaten track to discover water lily harvesting in Long An, salt farming in Can Gio, ancient mangroves and floating markets throughout the region, and a jaw-dropping complex of traditional brick-making factories at Mang Tit. We'll travel by boat, SUV and even bicycle to capture authentic images of this stunning area of Vietnam.
Popular Saigon Photography Day Tours
Discover daily life along Saigon's canal network, including a floating village of houseboats, a thriving market and plenty of people photography with friendly locals.
Get off the tourist trail and explore one of Saigon's most fascinating local neighbourhoods - an area of vintage apartment blocks and vibrant street markets known as 'the colony'
Explore Saigon's amazing railway village on this exhilarating sunrise photography day tour. A true snapshot from bygone Saigon.
Southern Vietnam Phtography Tours
Discover Vietnam from south to north by rail
Travel from Saigon to Hanoi on Vietnam's Reunification Express while learning the art of photography. Capture daily Vietnamese life in the cities of Saigon, Danang and Hanoi. Explore the eastern coastline, fishing villages and sleepy towns, snap portraits of traders, fishermen and local life along the railway. Experience crossing the Hai Van Pass, one of the world's most spectacular train journeys, on our 11 day photography adventure through Vietnam.
The Mekong Delta
Immerse yourself in Southern Vietnam's Wet Lands, Explore the very best this region has to offer, from Saigonese street photography to awe-inspiring riverside brick factories, from bustling water markets to tranquil mangrove forest, and the unforgettable highlight of the Khmer Ox Racing Festival