Discover Vietnam's historical opium trade in the mountains and markets of Sapa and Ha Giang
Capture the raw beauty and rich culture of northern Vietnam on the trail of its historical opium trade. We start in Hanoi's French Quarter, where we'll enjoy photographic excursions to snap both remnants of Indochine and daily life in this fascinating city. We'll then catch the overnight Victoria Express train to the hill station of Sapa, a town blessed with a diverse population of montagnards, the colourful hill tribes of Vietnam. Heading east through the vast mountains, we encounter colonial palaces and scattered ruins of French forts and gun emplacements, all remains of the opium trade in northern Vietnam a century ago. In Ha Giang province, we'll stay at an ancient H'mong house, now reconstructed as a homely eco-lodge, with 'opium rooms' still retained in the design. Our trip culminates with.the unforgettable Meo Vac tribal market, a final photographic feast to round off a unique adventure.
This is a premium photographic adventure, and we'll enjoy the best accommodation available along the way. We'll also taste the most delicious cuisine in a part of the world already renowned for its culinary excellence. Between train journeys, we travel by spacious and comfortable minibus, with an extra vehicle to transport our luggage between accommodation. At the same time, our close connection to the people of this region, local friendships and many years of experience give us unparalleled access to the authentic life of locals and the area's most stunning vistas. As working photographers and journalists, with many years of teaching experience, we provide you unique insights and knowledge about Vietnam and photographic storytelling.
Expect to get off the beaten track for unique photos of land and people on this visually-rich photo adventure. In Hanoi, we'll explore the backstreets of the French Quarter, capturing images where history and the modern world collide. We'll also try out some of the capital's famous cuisine, with some special dishes, like 'Bo Sot Vang' (Beef in Red Wine Stew) and 'Banh My Pa Te' (Pate Baguettes) clearly influenced by the colonial past. In craft villages and markets around the city, we'll produce visual mini-stories, working on aspects of composition and lighting. Heading north, we'll have the chance to take short hikes in the mountains, visiting tribal villages and meeting our old (and young) friends. In local stilt houses, we'll be able to take portraits using natural light, working in both color and black and white. The tribal markets of the north provide rich opportunities for candid people photography, and a chance to work on our skills shooting in busy environments. The markets also make for unforgettable experiences, mingling with the ethnic minorities, enjoying a view of lives in many ways unchanged for centuries. Ha Giang in particular will bring epic landscape moments, and we'll be working with the fast-changing light at sunrise and sunset to shoot stunning views over Southeast Asia's deepest gorge, the Ma Pi Lan Pass. Along the way, you'll develop your skills and portfolio, ultimately creating a photographic narrative of life in modern Vietnam, against the backdrop of its rich culture and history.
Our photographers are no ordinary guides. We're adventurers, teachers and assistants, as well as experienced shooters.  We're up at dawn to catch the best light, and always looking out for unexpected moments and details that make for great photography. Our guides are committed to making sure you enjoy exploring Vietnam through photography as much as we do. Your pictures and your experience are always the priority.
Digital Camera
Drone
Selections of lens
Cable release
Tripod
Memory cards
CPL & ND Graduated filters
Laptop/tablet
Storage device
Transfers upon arrival and departure
Accommodation as indicated in the itinerary
All transportation
Meals as indicated in the itinerary
Daily activities and excursions as indicated in the itinerary
All gratuities
local guides and government permits
Airfare to and from destination, as well as internal airfare where applicable
Trip cancellation insurance or any other travel insurance
Visas
Alcoholic beverages
This is a small private group tour with designated departure dates. However we can tailor this tour or something similar to your required dates.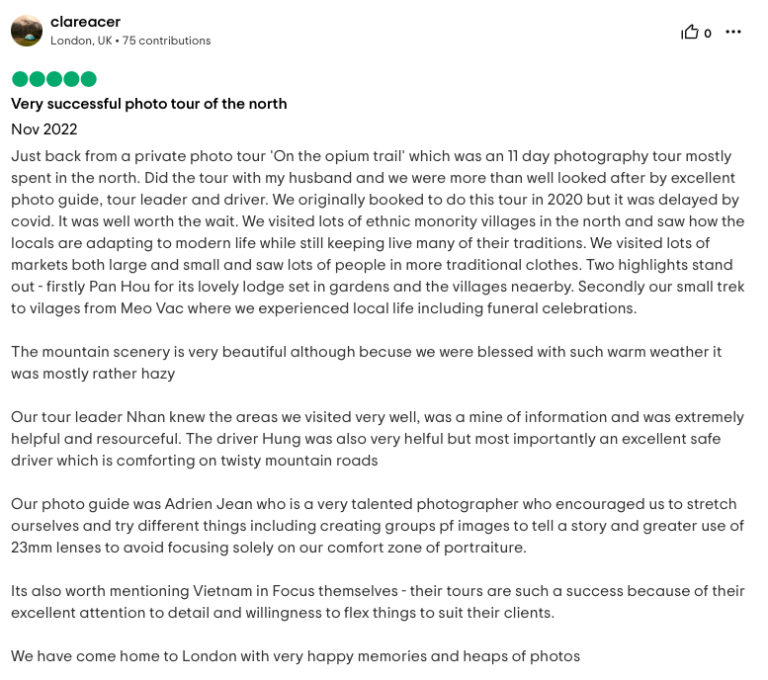 Villia (CANADA)
We were delighted with our trip, On the Opium Trail. We could not have asked for a more congenial and attentive guides, Duc and Nhan outdid themselves. Duc's ability to approach people and to get them to enjoy his company gave us an entry point for interacting with people. His profound respect for the ethnic minority peoples really impressed us and provided the means to engage with people on an equal footing. Our Opium trail guide, Nhan was an attentive and knowledgeable with a great sense of humor. We spent much of our trip smiling and laughing with the two of them. In Hanoi, Brett and Ling were great guides and instructors. Overall you have a great team who go the extra mile. The accommodations were great, the food fabulous and the car and driver were both superb. We had an exceptional time, see VIF again!